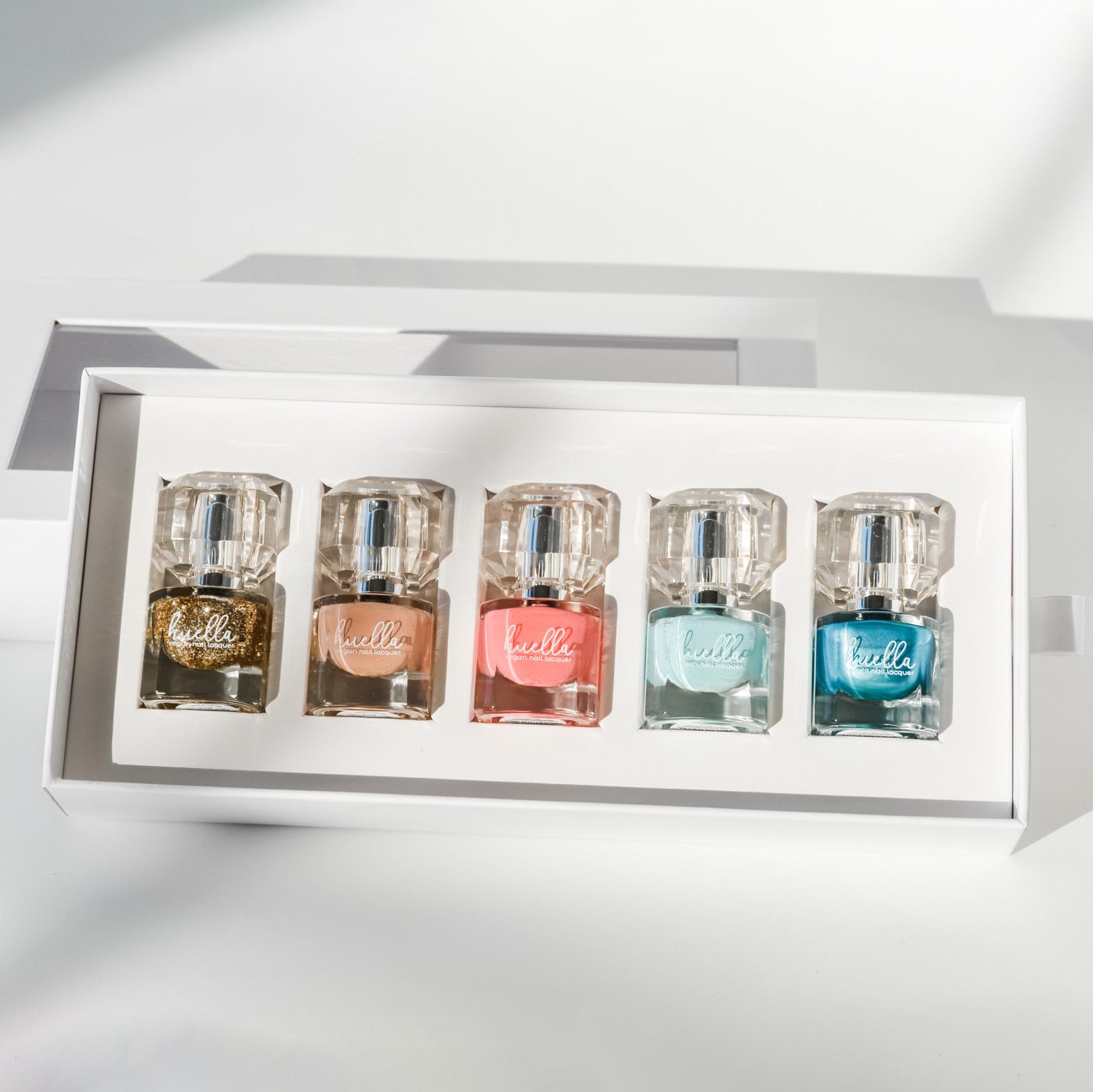 Our Coastal Collection is packaged in a beautiful gift box and comes with:
Gold-Faced Liar -  Clear with Large and Small Gold Glitter
Blush with Emotion -  A Nude Blush Pink
Pink Into Despair - A Bright Coral Pink
Blued to You -  A Pastel Light Blue
Little Bold Blue -  A Shimmery Blue
Technique

Roll bottle of lacquer with hands before use.

~

TIP: Use our removable cap to raise and rest your finger for ease and a more comfortable application.

~

Application:

•Apply a thin layer of our Undercover Base Coat to increase color adhesion and protect your nails.

•Wait until dry.

•Apply 2 thin layers of your desired nail lacquer color, making sure to seal the edge of your fingertips on every single layer.

•Let each layer dry before applying the next (about 1 -2 additional minutes after painting your last nail).

•Apply 1 layer of our Cover Up Quick Dry Top Coat, making sure to seal the surface and edge of nail to prevent chipping.

•After lacquer is completely dry, apply "The Good Oil" All-Natural Healing Cuticle & Nail Oil massaging into cuticles and nails as needed. We recommend applying at least once during the afternoon and again before bed for the ultimate hydration. Can be used on bare nails in between manis.

•Enjoy your new manicure for days with our chip-resistant and long-lasting formula and ultra hydration cuticle & nail oil!

Removal:

When you are ready for a change, simply wipe away color with your favorite nail polish remover.

Pro Tip:

Be cautious when dealing with products that contain harsh chemicals, such as hand sanitizers or household cleaning supplies. These products can dry out your nails and nail lacquer which could lead to chipping. We recommend wearing gloves when using these items.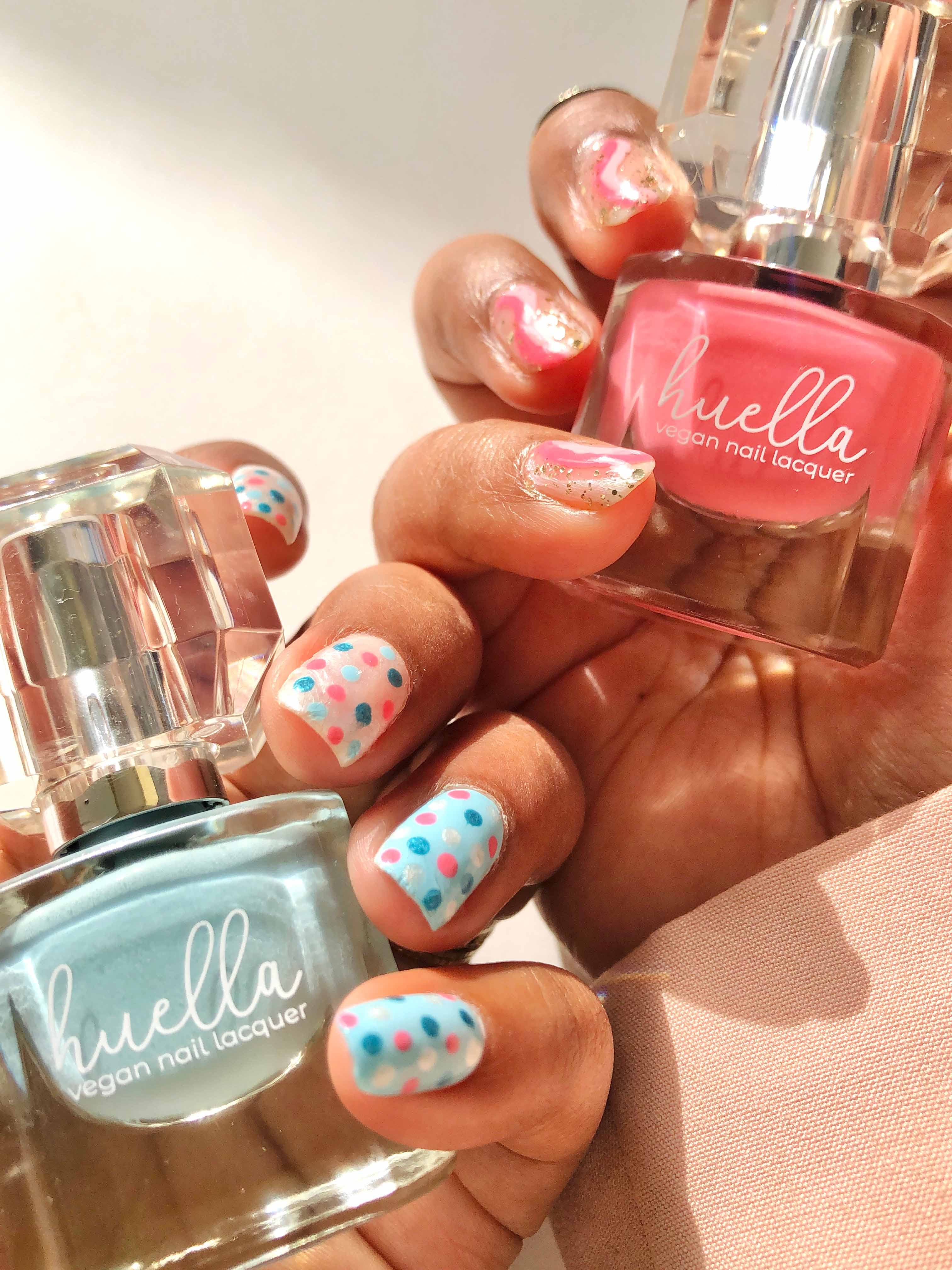 FALL IN LOVE
Our TRULY 10-FREE™ Lacquer
Our mission at Huella is to provide the cleanest and most luxurious nail lacquer without sacrificing quality. We strive to be a change-maker in the clean beauty industry and make every person's beauty routine safer.
TRULY 10-FREE
MADE IN THE U.S.A.
QUICK DRYING
CHIP RESISTANT
IMPECCABLE COVERAGE
ULTRA SHINE
VEGAN & CRUELTY FREE
INSIDE MATTERS
The toxic-10 you won't find here
Each of our Professional Nail Lacquers is handcrafted without the use of the following toxic & questionable ingredients, commonly found in other nail polishes.
• Formaldehyde
• Formaldehyde Resin
• Dibutyl Phthalate (DBP)
• Toluene
• Camphor
• Ethyl Tosylamide
• Xylene
• Triphenyl Phosphate (TPHP)
• Benzophenone-1
• Parabens